Design and Detailed Engineering Services
TurnBIM Structural department offers design and detail engineering services and is a one stop solution for all types of structures. We prepare step by step design calculations and detailed drawings including Fabrication drawings, Bar bending schedules, Bill of materials and CNC information for fabrication.
We have a good working experience on various international standards which include American, Australian, British, Canadian, European, Indian and other International standards of practises.
Our team has the capability to work on Industrial structures, Power Plants, Refineries, Oil and Gas Plants, Pre Engineered buildings PEB, Petrochemical Structures , Highrise towers, Material Handling, Bridges and Infrastructure sectors.
At TurnBIM we have also extended our area of expertise in Offshore Structures and we specialize in Jackets, Topsides, Subsea Structures. We can execute the project from conceptual stage, FEED (Front End Engineering Design), Detail engineering till the execution of the projects.
Our fixed facility includes are:
Dynamic In-place Analysis
Spectral Fatigue Analysis
Seismic Analysis
Pushover Analysis
Ship Impact Analysis
Boat-Landing & Barge Bumper Design
Helideck Analysis and Design
Secondary, Tertiary Steel Design
Loadout Analysis – Skidded & Trailer
Transportation Analysis
Lift Analysis
Launch Analysis
Float-over Analysis
Floatation & Upending Analysis
On-bottom Stability & Mud-mat Design
Pile drivability
Pile sequence
Pile Handling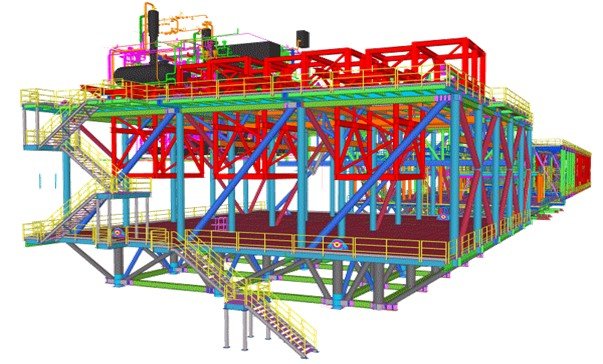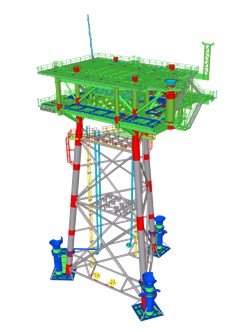 Installation & De commissioning:
Transportation Sea-fastening & Grillage Design
Loadout Trailer Arrangement
Rigging Selection, Transportation Arrangement of Piles
Decommissioning Engineering
Structure stability Cutting Sequence During Decommissioning
Transportation & Load-in Arrangement & Design
FPSO facilities:
In-place Analysis with motions & Displacements
Lift, Loadout & Transit Analysis
Fatigue Analysis of Modules during Transportation and In-service
Subsea Structures including PLET, PLEM, ILT, Manifolds, Mudmat & Miscellaneous Design
Connection Design Services
TurnBIM Engineering provides a comprehensive range of Steel connection design services, detailed step by step calculations with Codal clauses, Sketches and Formulas, as per AISC (ASD & LRFD) CISC and Indian Standards.
Our connection design details are given to both Detailers and Engineers separately for their reference
Beam-Column Connections
Beam-Beam Connections
Moment Connections
Axial Connections
Column Splice Design
Hanger Connections
Braced Frame Connections
Truss Connections
Seismic Design Connections
Steel Connection drawings
Stair and Railing design – Column, Pan, Stringer, Base, Header, Hangers, Handrails and connections